From time to time we all think about changes in our life, right? If we talk about our morning routine, for the majority of us it starts with a hot cup of coffee, but at least it gets you on track for daily rush. So we present you an alternative – NORDIC BLACK tea, locally sourced and made in Latvia.
This tea is slightly similar to classic black tea, but it has really specific nuances – it has a bitter sweet taste and it's truly aromatic. Besides that, NORDIC BLACK has so many pros, too  – it's energy boosting, metabolism improving, naturally rich in minerals – like vitamin C and Iron. It definitely doesn't contain caffeine and is theine-free! And still, it gives you the effect you want in early mornings – your eyes are fully opened and you are ready for the new day.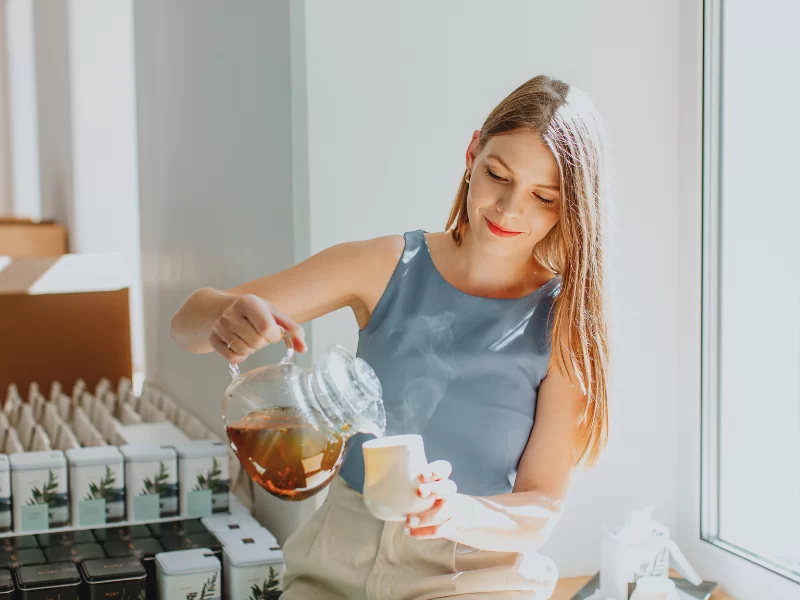 We would be honored if you chose to try our number one tea – bright and clear NORDIC BLACK tea. For a long time now, it has been the most popular tea in our tea house, it's been favored in 19 countries. As you already know, in PLŪKT tea house almost everything is hand-made, and we are proud of this fact! Making this tea isn't exception. If you are interested in the process of production – read more!
NORDIC BLACK is made from fermented organic Fireweed. Fireweed plants in our teahouse come from organic meadows. Every single leaf from this plant is carefully chosen to be plucked – there are no imperfect ones or bright purple flower petals. When leaves have dried up a bit, we start to squeeze, poach and roll them – until it turns homogenous. We put away this mass for a few days, leaving them with low oxygen, but keeping them with perfect humidity level. It's called fermentation.
When this process is over, it's time to put them in the drying oven for further fermentation. We heat what's left from squeezed Fireweed for about 7 to 14 hours, meanwhile stirring them for all of that to dry out.
NORDIC BLACK is now ready to be packed in biodegradable pyramid tea bags and served into tins. Remember, when your ordered tea tin will be empty, check out our online store to purchase an excellent option – Refill NORDIC BLACK! May your tin be reusable – make a step in zero wasting culture! 
But if you are more of a loose tea enjoyer, we offer tin with 40 grams of NORDIC BLACK. Just one little tea spoon and your tiredness, weakness and bad mood will be gone for good.
The bigger the challenge, the bigger the opportunity to grow.
So we give you another challenge – change your morning routine's favorite drink to our NORDIC BLACK tea. 
Changes are good, don't doubt that. Ever.
Katrīna from PLŪKT team